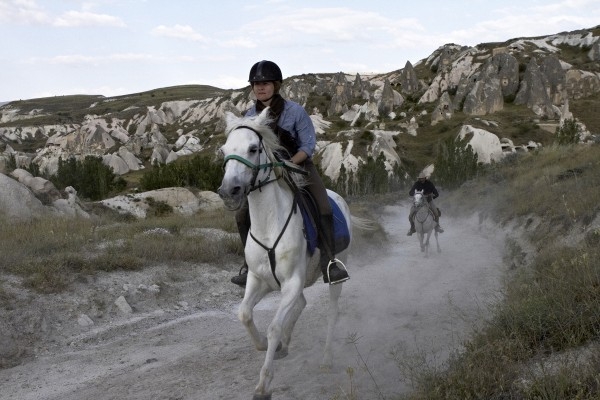 The Cappadocia Multi-Day Rides
For guests looking for more of a riding adventure, we offer multi-day rides around Cappadocia and also to the Taurus Mountains. The multi-day rides are subject to seasonal availability – please email to check availability and pricing.
The Cappadocia multi-day ride is a 3, 4 or 5-day ride with 6-8 hours per day on horseback exploring the sweeping areas of Cappadocia – each day covering distinct valleys with completely unique landscapes, rock formations - most dotted with orchards, vineyards and small villages along the way. The overnight options for the Cappadocia multi-day ride are either staying in local hotels/pensions or camping in tents each evening.
We look forward to welcoming you to our ranch and sharing your amazing Cappadocia adventure with you!
Please use the email link below to reserve your horseback ride in Cappadocia.
Please advise the following information in your email:
- dates and/times of day
- type of ride (daily, multi-day, etc)
- number of people
- your riding experience level (beginner, intermediate, etc)
Daily Rates:
1-hour ride: 25 Euros per person
2-hour ride: 45 Euros per person
4-hour ride: 85 Euros per person
7-hour ride: 130 Euros per person
---